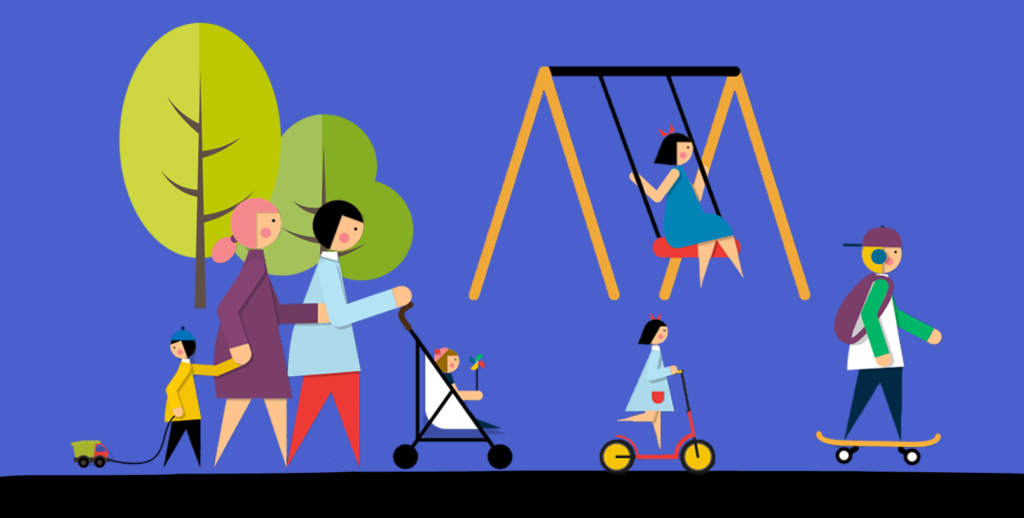 Acerca de ¡Vamos a Jugar!
UHP está trabajando para crear un "circuito de juegos", una vía para caminar alrededor de las escuela primaria e intermedia de Citrus Grove con letreros, marcas y estaciones de juego para encender la actividad física e involucrar a la comunidad para mejorar su salud. Actualmente, esta área de La Pequeña Habana carece de espacio abierto para que los residentes se conecten con los vecinos y esto les ayudará a sentirse mejor emocionalmente. El camino y las estaciones transformarían las áreas que actualmente son solo típicas aceras en lugares donde las familias podrían congregarse y los niños jugar. Los residentes serán bienvenidos para interactuar con todo el camino o disfrutar de las estaciones de juego individuales. Este proyecto es una extensión de una campaña dirigida por UHP, Live Healthy Little Havana Vámonos que se enfoca en aumentar el tránsito de peatones y ciclistas en la Pequeña Habana. La Ciudad de Miami es un patrocinador activo del proyecto a través de la iniciativa de Live Healthy Little Havana.
Este será un proceso dirigido por la comunidad donde trabajaremos con los residentes de Little Havana y con los estudiantes y padres de las escuelas primaria e intermedia de Citrus Grove  para diseñar un espacio para jugar y reunirse con familiares y amigos. Para proporcionar sus valiosas ideas al proyecto, acompáñenos a tomar un café y conversar  y/o participar en una encuesta en línea. Por favor, póngase en contacto con Elsa Vazquez en Elsa@urbanhs.com si tiene alguna pregunta o duda. 
Impactos del Proyecto
La gran mayoría de los 76,163 residentes de Little Havana no tienen el acceso apropiado a un parque o a espacios públicos, esto podría afectar negativamente el bienestar físico y mental de los mismos. Dado que el 24% de los hogares de la Pequeña Habana tienen niños menores de 18 años, es de particular importancia crear espacios que puedan ser disfrutados por toda la familia. UHP está trabajando para crear una mayor cantidad de espacios públicos para que de una manera creativa se pueda brindar la oportunidad de jugar, hacer ejercicio y aumentar la conexión entre generaciones. El Play Trail o circuito de juegos se creará alrededor de Citrus Grove Elementary y Middle School, que es un área de la Pequeña Habana que carece de espacio público.  Dicho recorrido proporcionará una oportunidad para los niños y familiares para jugar, explorar y descubrir algo diferente en su comunidad.
Es importante que esta comunidad y otras comunidades similares sepan que a pesar de que las condiciones actuales del entorno construido no proporcionan un parque tradicional, las organizaciones comunitarias han estado escuchando y respondiendo sus necesidades. Al crear este espacio para la comunidad, UHP espera, no solo, aumentar la actividad recreativa y mejorar la salud de los residentes, sino también generar confianza y conexión en una comunidad que lo merece.
Mapa del Área del Proyecto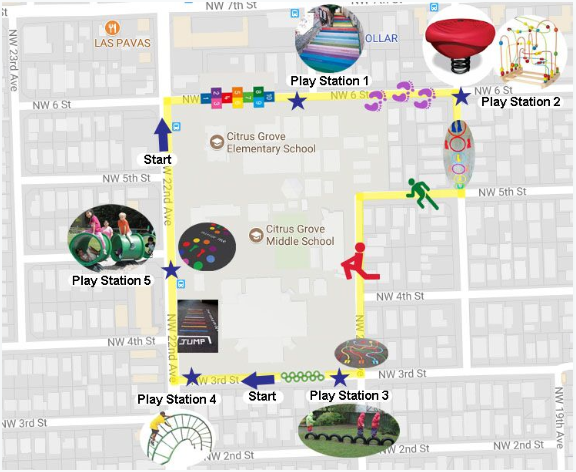 Acerca de Funder – Kaboom! Jugar en Todas Partes
En 2016, Target y KaBOOM! anunciaron una asociación nacional para crear 175 espacios únicos de juego en todo Estados Unidos. El desafío Play Everywhere o Juega en Todas Partes es una competencia nacional que ofrece fondos para ideas únicas y convincentes para integrar el juego en la vida cotidiana y en lugares sorprendentes. El apoyo de Target ha ayudado a KaBOOM! empoderar a las ciudades para convertir los espacios cotidianos en áreas de juego que fomenten la actividad física y el juego familiar.
About ¡Vamos a Jugar!
UHP is working on creating a "Play Trail" – a walking path around Citrus Grove Elementary and Middle Schools with signage, markings and play stations to ignite playful physical activity and engage the community in improving their health. Currently, this area of Little Havana lacks open space for residents to connect with neighbors and that supports their emotional wellbeing. The play trail and stations would be areas where families could congregate, and children could play in spaces that are currently just typical sidewalks. Residents would be welcomed to interact with the whole path or enjoy the individual play stations. The City of Miami is an active partner of the project through the Live Healthy Little Havana initiative. Also, this project is an extension of a UHP-led Live Healthy Little Havana Vámonos campaign that is focused on increasing walking, bicycling and riding transit in Little Havana.
¡Vamos a Jugar! will be a community-led process where we will work with residents of Little Havana and Citrus Grove Elementary and Middle school students and parents to design a space to play and meet with family and friends. To provide your valuable input and ideas in the project, please join us for coffee and conversation and/or participate in an online survey. Please contact Elsa Vazquez at Elsa@urbanhs.com if you have any questions. 
Impacts of Project
Of the 76,163 Little Havana residents, many do not have proper access to a park or to public spaces which could negatively impact residents' physical and mental well-being. Since 24% of households in Little Havana have children under the age of 18, it is of particular importance to create spaces that can be enjoyed by the entire family. UHP is working to create more public spaces in creative ways to provide an opportunity for play, exercise, and increased social connection across generations. The Play Trail will be created around Citrus Grove Elementary and Middle School, which is an area of Little Havana that lacks public space. It will provide an outlet for children and their families in the area to play, explore, and discover something different in their community.
It is important for this community and other similar communities to know that even though the current built environment conditions do not provide for a traditional park, community organizations have been listening and are responding to their needs. By creating this space for the community, UHP hopes to not only, increase playful activity and improve the health of residents, but also build trust and connection in a community that much deserves the attention.
Map of Project Area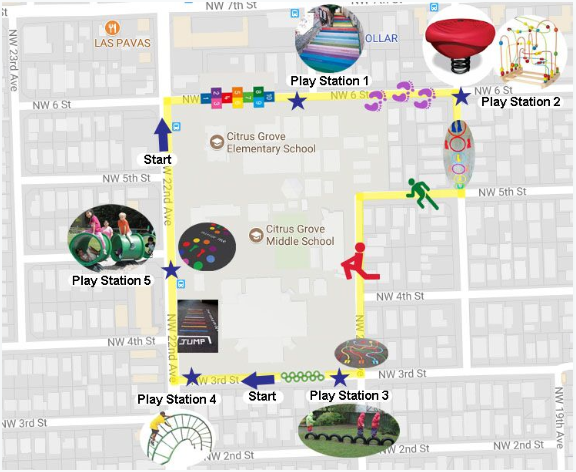 About Funder – Kaboom! Play Everywhere
In 2016, Target and KaBOOM! announced a national partnership to create 175 unique playspaces across the U.S. The Play Everywhere Challenge is a national competition that offers to fund unique and compelling ideas to integrate play in daily life and surprising places. Target's support has helped KaBOOM! empower cities to turn everyday spaces into play areas that encourage physical activity and family play.